Joe Sommer has never bought a jigsaw puzzle, yet he has nearly 200 of them finished and on display in the basement of his home.
"They just come and I do them," the 89-year-old Chilliwack man said frankly.
For more than 55 years, friends and family members have been sending him puzzles as gifts.
He moved to Chilliwack back in 1966 with his with Ruth. He was a dairy farmer for 41 years.
"I'd come in from farming and put a few pieces in before breakfast, and after breakfast some more. And when I had time, I'd milk the cows," he said with a laugh.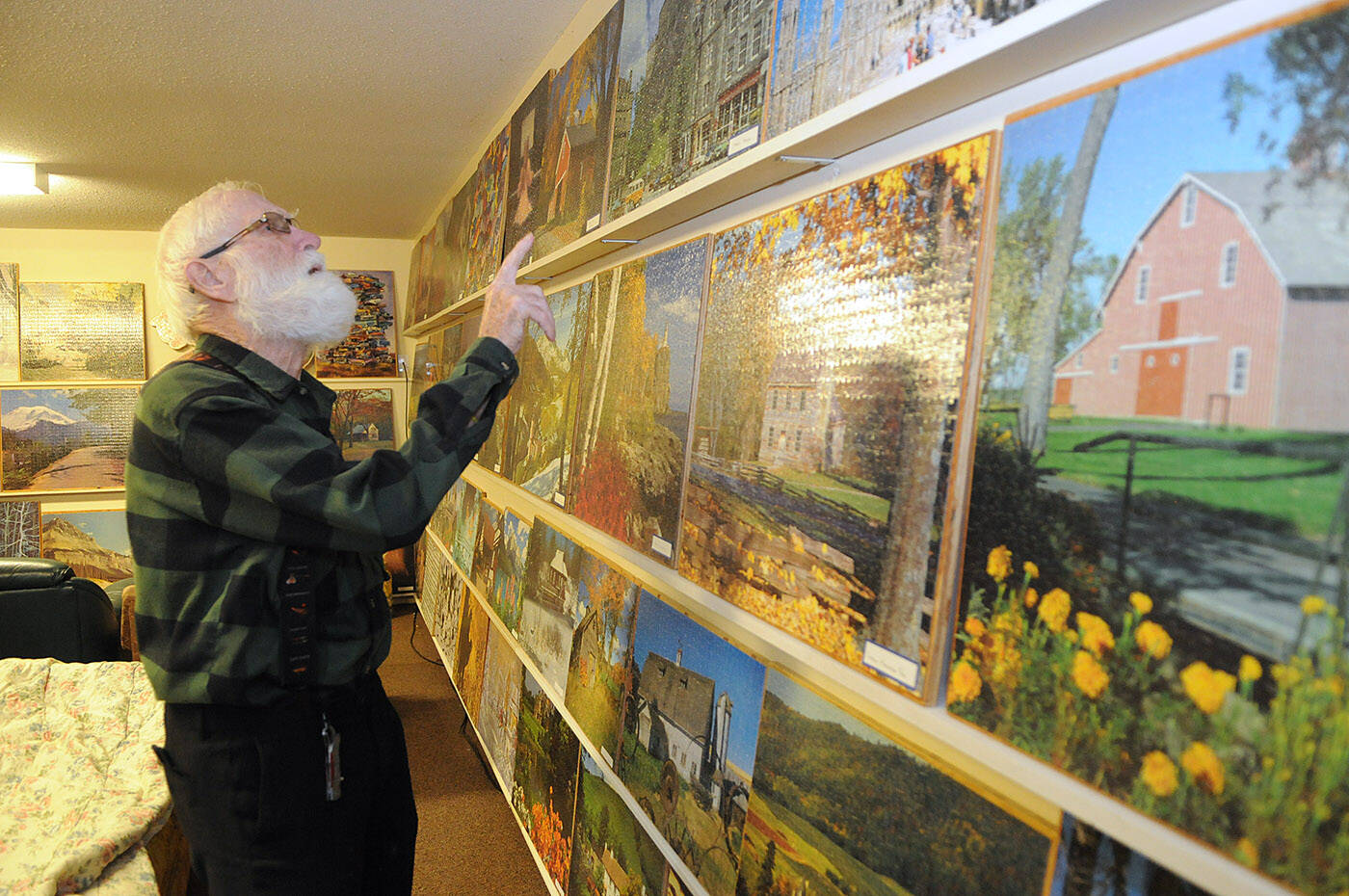 Rather than disassemble a puzzle when it's done, he mounts them on wood.
When one is complete, he puts a layer of glue on top so it doesn't come apart. Once that's dry, he glues the puzzle to a five-eighths-inch piece of plywood and places books on top to press it down.
They're all on display along rows of shelves filling the walls of his basement – all 190 of them.
"Somebody said if you don't have patience, don't get (puzzles). And I can always use a little more patience."
Why not take the puzzle apart and put it away so it can be done again later?
"I thought well if I do the work, fine, and then if I can display it, why not?"
Joe has puzzles of barns, cityscapes, animals, nature and famous landmarks. He has 3D puzzles, ones shaped like animals, and some that have features that would turn many people away.
"I've got puzzles that have no border with five extra pieces just to trick you… yeah, it's a challenge."
He recalls the first three he was sent: a pianist, then a ballerina, and then a watch puzzle. Most are 1,000-piece puzzles, but some have 2,500 pieces or more.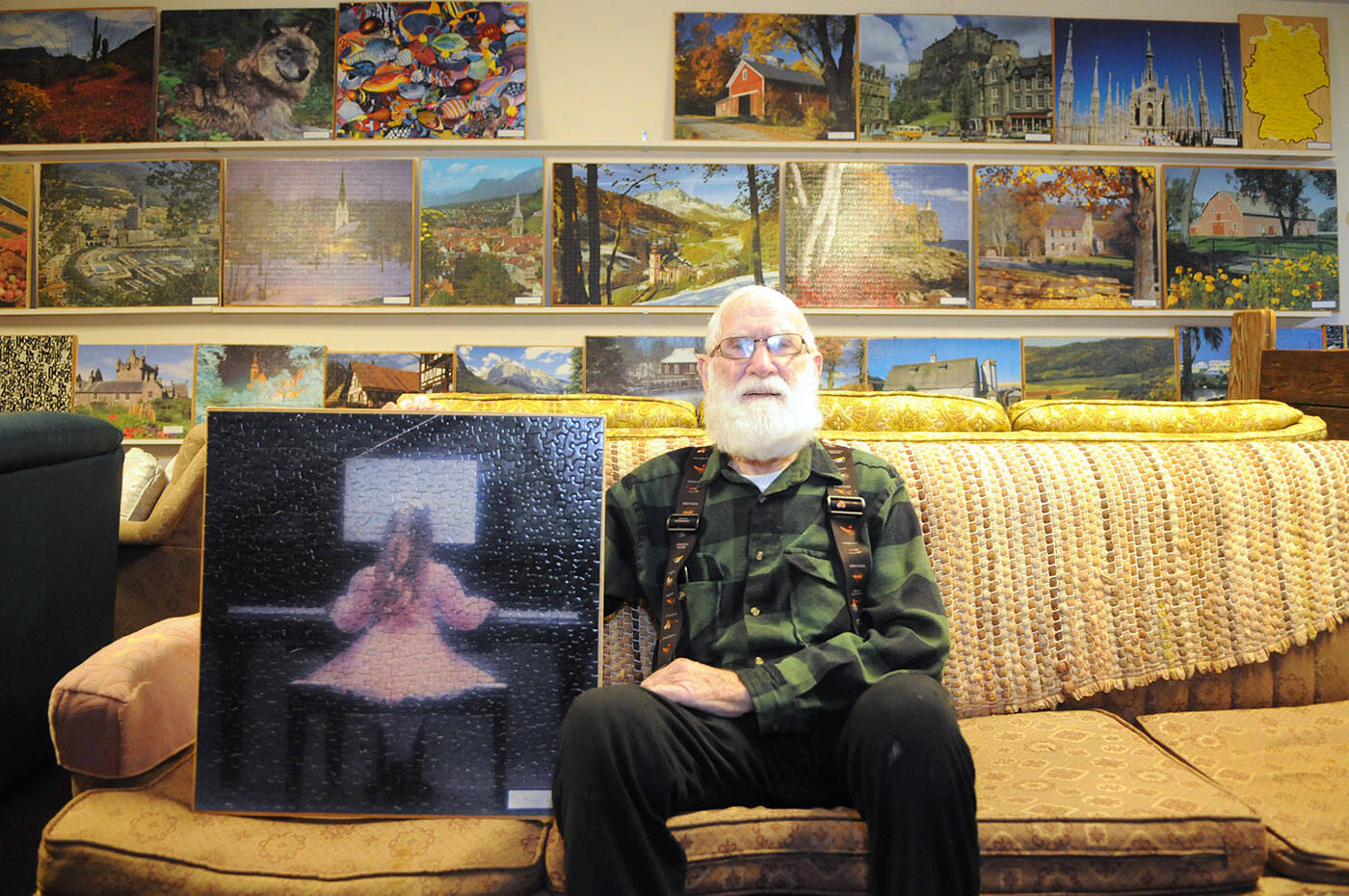 There's one called 'Red Menace' which is a completely red, circular puzzle – that was one of the most difficult ones.
Joe has a strategy for piecing them together. Typically there are three or four different shapes of pieces which he separates.
"I put one shape in one box, one in another. It makes it a lot easier."
He figures it takes him about two hours to separate the pieces for a 1,000-piece puzzle, but he says it's worth it.
Over the 57 or so years he's been putting together jigsaw puzzles, only once was he given one that he already had.
"A friend of ours, she gave me a box of five I think, and when this one was half-done I discovered 'Oh, I already did that one.' So I thought 'Forget it, I'll finish it off rather than throw it away.'"
He has no preference for the puzzle size or picture and said he simply does whatever is given to him. But with nearly every wall of his basement covered in puzzles, he's running out of room.
"I told them to stop, I don't have any more space to put them."
But his friends won't listen.
"I just got one the other day for my birthday," he said.
Ask him when his birthday is and he says "1-2-3-4." That's Jan. 2, 1934.
Joe admits he's slowing down and his eyesight isn't what it once was, but he's still doing them because people are still sending them to him.
"Somebody said 'What are you going to do (with the puzzles) when you move on?' I said 'I have nothing to worry about,'" he said with a laugh.
---
Do you have something else we should report on?
Email: jenna.hauck@theprogress.com
Twitter: @PhotoJennalism