The Better Business Bureau says the riskiest scam Canadians faced in 2022 was getting worked over by fraudulent construction contractors.
Using input from 1,297 scams reported to it throughout the year, the BBB compiled a list of 10 riskiest scam types and released it Monday (March 6).
At the top is home improvement scams, up from the 4th place spot in 2021. This type of scam only made up 6.2 per cent of reports in 2022, but the BBB rated it as the riskiest because of how likely people are to fall for it and how much money it costs them when they do.
The BBB says 78.8 per cent of people were susceptible to home improvement scams, and they lost about $1,900 each.
To avoid falling prey, the BBB says people should watch out for cash deals, high-pressure sales, upfront payments, a lack of written contract and free on-site inspections. The BBB suggests people always check company references and look into their local construction laws.
By far the most reported scams in 2022 were online purchases. The BBB says such scams made up for 30 per cent of complaints they heard about. Still, the BBB only rated them 6th riskiest because of their relatively low loss rate ($102).
The highest average loss came from investment scams. While only 2.9 per cent of reports in 2022 were of this nature, those who were tricked lost an average of $5,000. The BBB rated investment scams in 4th place.
A full list of the top 10 includes: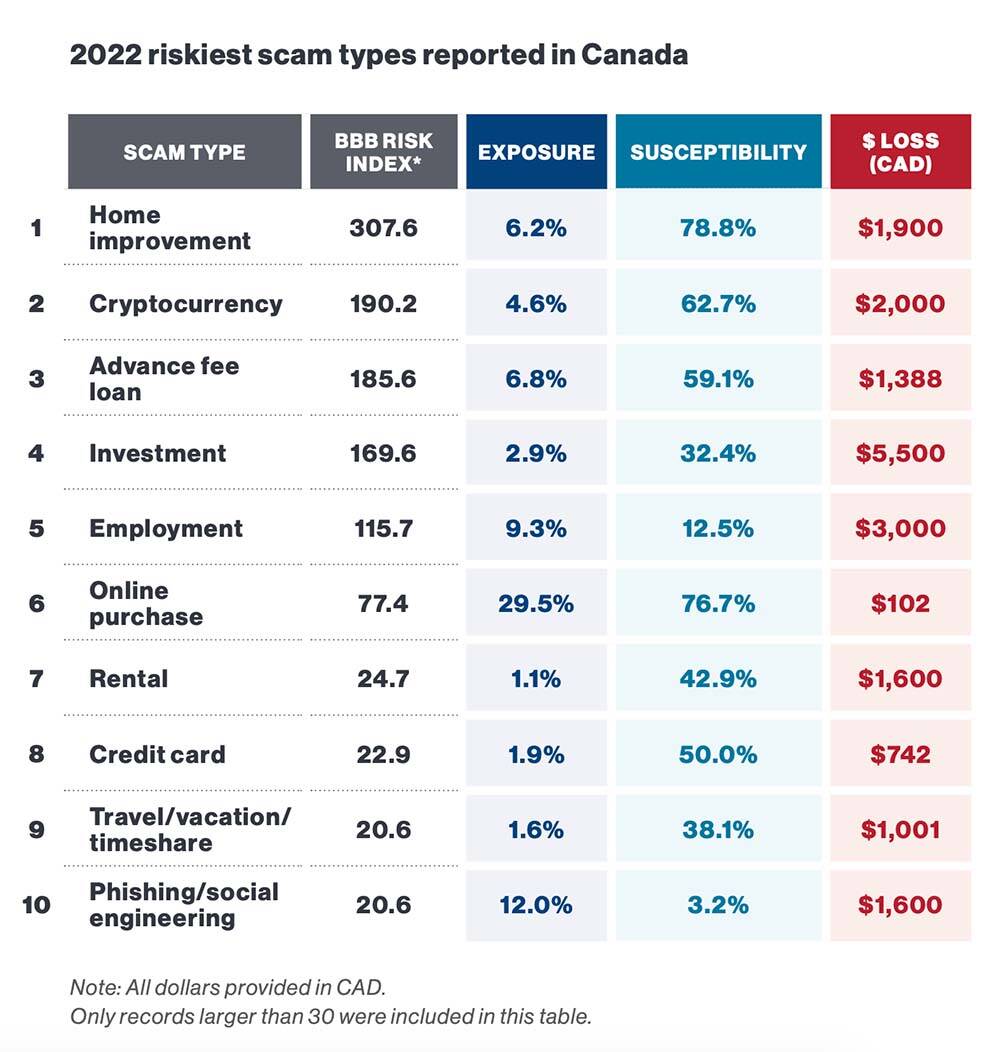 The BBB says 2022 saw an overall four per cent increase in the rate of people falling for scams over 2021. People also lost out on an average of 20 per cent more during the same time period. In 2022, fraud victims lost an average of $300 per scam.
Between men and women there was very little difference in susceptibility, but women were far more likely to encounter scams, while men lost out on far more money on average.
Susceptibility was fairly consistent across age groups, with only those aged 35 to 44 standing out at 57.2 per cent. That age group also had the highest average loss amount at $500, versus between $190 and $374 in the other groups.
The avoid scams generally, the BBB recommends a healthy degree of skepticism, only using secure and traceable transactions and never sharing personal information with an unsolicited contact.
Scams can be reported to BBB.org/ScamTracker.