A number of ceremonies in Victoria on Monday are marking the return of a totem pole to Bella Coola's Nuxalk territory from the Royal B.C. Museum.
After a crowd watched a crane lower the totem pole from the upper levels of the museum, one of the Nuxalk hereditary chiefs who helped spur the repatriation said it will give them the opportunity to bring back their stories.
"We have to remind ourselves of who we are, where we come from, why we're here on Mother Earth," said Snuxyaltwa (also known as Deric Snow).
"Thank you guys for coming here today. My family is happy, our ancestors are rejoicing."
Nuxalk members sang a Thunder Song as the pole was being lowered and many embraced as it touched down onto the stone outside the museum entrance.
"Everything that is on that totem pole has a meaning," Snuxyaltwa said. "Right from the day it was born, it had a purpose, a purpose of life."
"I'm sorry I got so teary-eyed, but I feel the spirits, it's hard not to."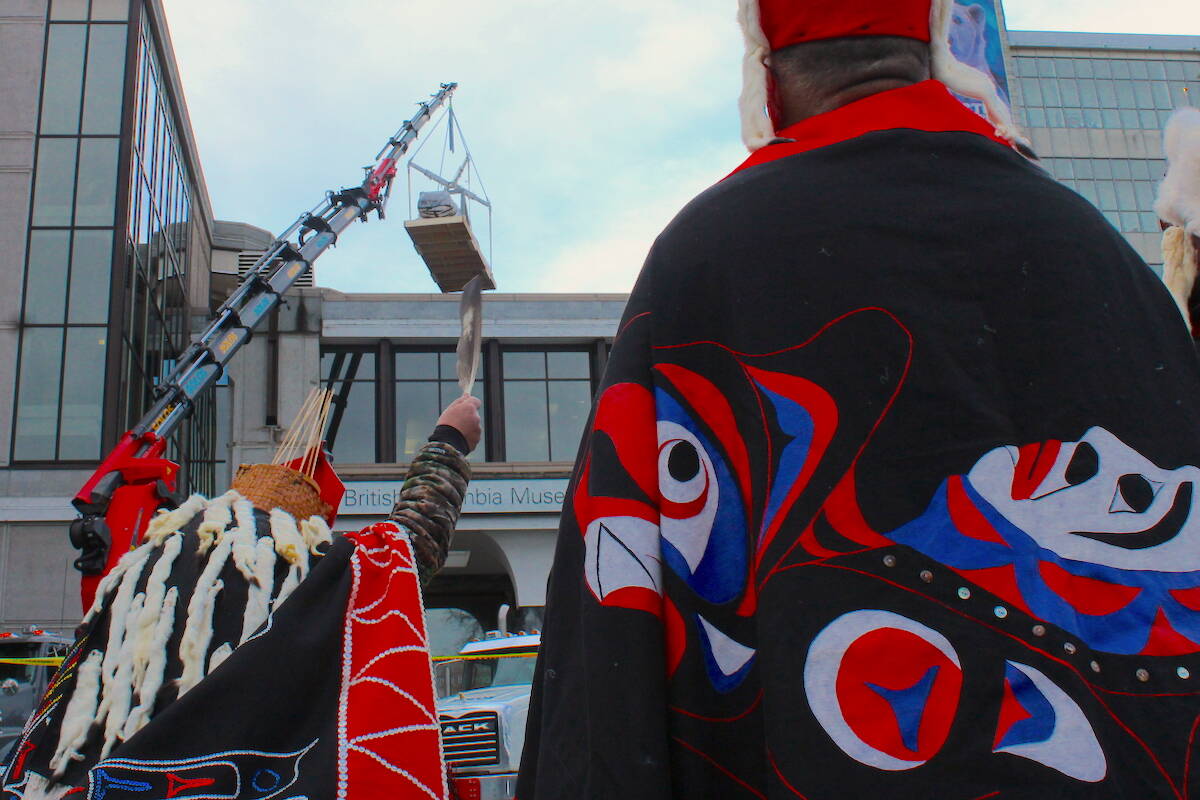 The pole, which had been taken from Talleomy, the original village site of the Nuxalk Nation, before the community moved to Bella Coola, has been in the First Peoples' gallery of the RBCM for decades.
The museum verbally agreed to return the pole in 2019 after a visit from four Nuxalk hereditary chiefs and a civil claim against RBCM was filed in January 2022. The museum said the delay was a combination of logistical challenges – they didn't know how to get the towering totem pole out of the building – and COVID-related delays.
Snuxyaltwa said the pole was originally carved by his great-grandfather and initially installed as an entrance pole for the Snuxualtwa family longhouse in Talleomy.
The Nuxalk community was devastated by the smallpox epidemic and the remaining community members were relocated to Bella Coola. On or around the same time, the totem pole was taken or purchased and then ended up in the museum.
Aiyanna Blankenship and Charlene Schooner travelled from Bella Coola to witness the handover.
Blankenship said everybody in the community is really happy about the pending return of the pole.
"It is something our families have been waiting for, waiting to be honoured and remembered in a good way, to be treated with dignity and respect, to be recognized as a human, to understand that we have really strong ties to the land," Schooner said.
These poles capture the great history of the Nuxalk Nation, Schooner added, comparing their removal to residential schools. "They were just torn away in the same way. These belong (to us). They are part of our history. They acknowledge how long we have been there."
-With files from Wolfgang Depner and Ruth Lloyd
---
Do you have a story tip? Email: newsroom@vicnews.com.
Follow us on Twitter and Instagram, and like us on Facebook.