A new method of urine test analysis is allowing researchers to determine what street drugs are emerging in B.C., at a far faster rate than existing approaches.
In a study published in Analytical Chemistry on Wednesday (Nov. 15), a team of experts showed how they were able to use thousands of existing B.C. urine samples and compare them against drug findings elsewhere in the world to tentatively identify what new substances are circulating in the community.
"The earlier we can detect these drugs, the sooner community-based drug alerts can be issued and staff at Overdose Prevention Services can prepare treatment options," said Aaron Shapiro, an associate scientific director at the B.C. Provincial Toxicology Centre and one of the study's authors, in an email to Black Press Media.
The drugs they are concerned with identifying are known as "novel psychoactive substances" or "designer drugs," and are derivatives of known substances, often cooked up black-market chemists. When they arrive on the street, the drugs' potencies and effects aren't always known to those using them and they can increase the risk of overdose or death. Those treating someone for an overdose involving a designer drug also may not know the best way to respond, if they have never seen the substance or symptoms before.
READ ALSO: Nearly 6 people died per day from unregulated drugs in September: B.C. coroner
The study's lead author, Michael Skinnider, said this is a serious problem as dozens to hundreds of designer drugs emerge on the market every year. In order for laboratories to test for each substance, they would have to obtain a reference sample of every new drug. Those can be costly, however, and, even if a lab could afford them all, Skinnider said the sheer volume of possible drugs would make it highly impractical.
"So in practice, labs have to make kind of educated guesses about which drugs they should be developing these clinical grade tests for," Skinnider said.
The goal of their study was to make that process more efficient. By analyzing findings from laboratories around the world, the team of researchers was able to develop a database of the chemical components that make up 83 emerging designer drugs. It then compared those components with the results of more than 12,000 urine tests taken between August 2019 and August 2022 at the B.C. Provincial Toxicology Centre to determine if any of the designer drugs had likely been present.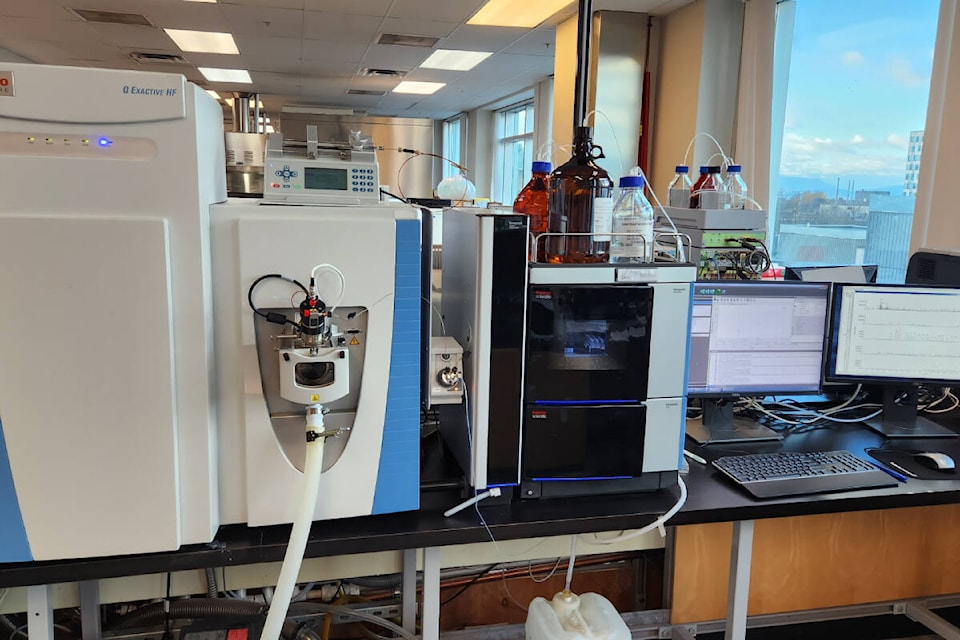 Skinnider said this approach doesn't identify drugs with 100 per cent certainty, but it does better indicate to labs which drug tests they should prioritize developing next.
"Ultimately, the hope would be that this could dramatically reduce the lag between the introduction of a drug into the community and the lab's ability to test for that drug with clinical samples."
In their analysis, Skinnider and his team tentatively identified 31 of the possible 83 designer drugs in the B.C. urine samples. Ten of those drugs showed up in at least 20 samples each. The most commonly detected drug was fluorofentanyl, an analog of fentanyl, which showed up in 301 samples.
Skinnider said this gives labs solid data to go off of when they decide which reference drugs to purchase and develop clinical tests for. Already, the B.C. Centre for Disease Control is working to implement the new designer drug database into its clinical drug screening process.
Skinnider said they're also looking at combining the database with an artificial intelligence platform he helped develop a couple of years ago that can predict what designer drugs may be emerging before they actually appear.
READ ALSO: 'Unconstitutional': Harm reduction nurses suing B.C. over public drug use ban