B.C. Conservative Party Leader John Rustad is facing criticism for comparing residential schools to gender and sexuality education in public schools.
He made the likening in a post to X, formerly known as Twitter, on the National Day for Truth and Reconciliation on Saturday (Sept. 30).
"Today, we remember what happens when the Canadian government thinks it's better at raising children than parents. I will always stand with parents," he said.
Many have since called him out for politicizing the day in a move to platform the parental rights movement, which has vocally opposed the Sexual Orientations and Gender Identities (SOGI) teaching resource being used in B.C. schools. Rustad said in a Sept. 20 statement he would abolish SOGI if elected.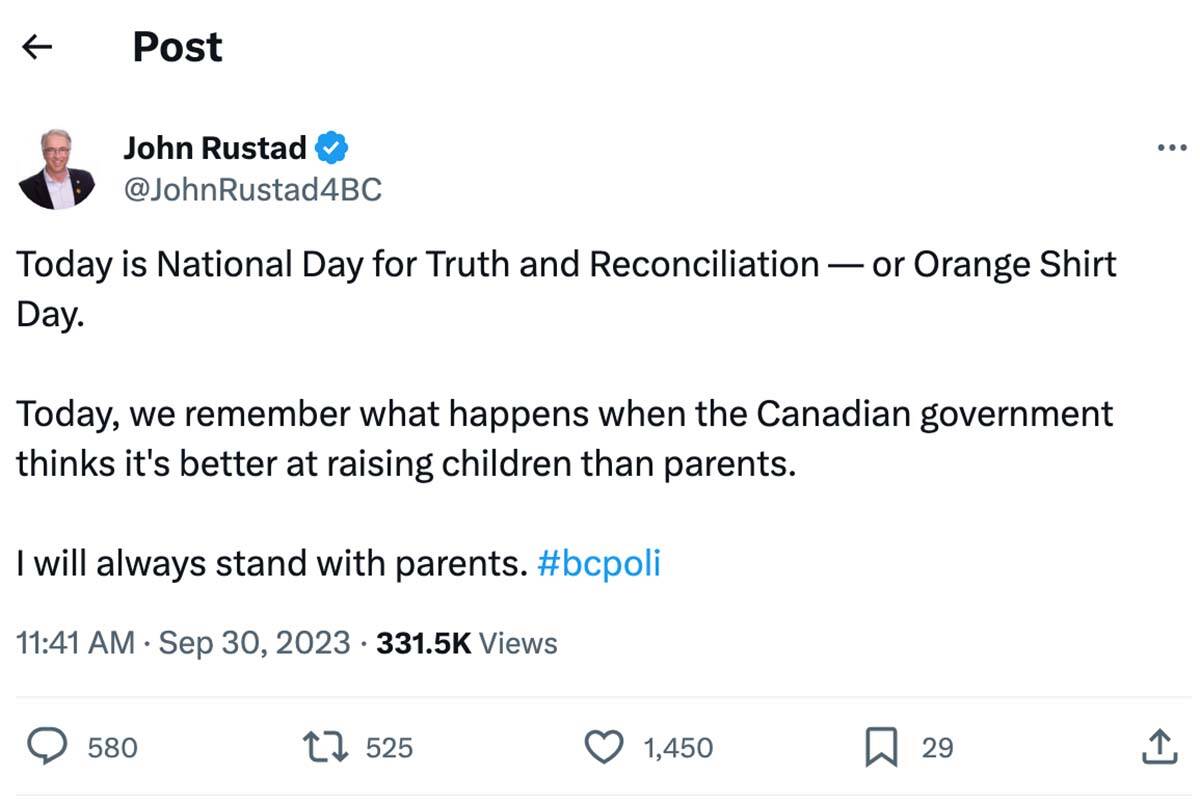 Marilyn Slett, chief councillor of the Heiltsuk Tribal Council and secretary-treasurer of the Union of B.C. Indian Chiefs, said the National Day for Truth and Reconciliation is intended to remember the children who never returned from residential schools and honour those who survived.
"It is also a day to think about the racism and oppression that Indigenous peoples still face across Canada. It is not a day to be co-opted by rhetoric that would seek to further divide us," she said in a statement to Black Press Media.
University of British Columbia Métis professor Tricia Logan said Rustad's post is also misleading as it neglects to recognize the role churches played in running residential schools, and the stance they held on gender-diverse people.
"One of the ways residential schools and colonialism has impacted Indigenous Peoples is through religious indoctrination, which included suggesting cis-heterosexual identities and relationships was the only 'proper' way to be," Logan, who is the interim academic director of the Indian Residential School History and Dialogue Centre at UBC, said in a statement to Black Press Media. She noted that two-spirit and 2SLGBTQIA+ people have long been highly regarded in many Indigenous communities.
"Comparing SOGI to the genocidal assimilationist residential schools is fear-mongering and inaccurate," she said.
Others have called for Rustad to apologize. But in an interview with Black Press Media on Monday, the Conservative party leader instead doubled down on his comments.
"What I'm saying is that parents' rights, when taken away, often end in very unpleasant situations."
An estimated 150,000 First Nations, Métis and Inuit children were placed in residential schools, in a move from government and churches to assimilate Indigenous people into Canadian society and abolish their culture.
While there, many Indigenous children endured emotional, physical and sexual abuse, the intergenerational impacts of which continue today. At least 4,118 children died there, according to the National Centre for Truth and Reconciliation.
Rustad said Monday he isn't so much trying to compare the outcomes of residential schools and certain educational tools, but the fact that both, in his opinion, don't allow parents full control over how their children are raised.
He pointed to the origin story of the National Day for Truth and Reconciliation as an example. The day, previously known as Orange Shirt Day, was created by Phyllis Webstad who was forced to attend Saint Joseph Mission Residential School near Williams Lake in 1973.
On her first day of class, six-year-old Webstad wore an orange shirt her grandmother had bought her for the occasion. When she arrived at school though, her shirt was immediately taken away.
Rustad said that infringed on the rights of Webstad's family. He said the same thing is happening with parents now who don't want their children being taught about gender and sexuality in school.
The pushback against SOGI is one of numerous causes the so-called "parental rights" movement has taken up in recent years in Canada and the U.S. They have also lobbied against children being able to go by chosen names or pronouns at school without parental consent, certain books being allowed in school libraries and gender-neutral bathrooms.
Critics of the movement have called it a dog whistle for anti-trans sentiments, and say it incorrectly suggests all parents are against gender and sexuality education. The B.C. government says the tools and resources for SOGI education are intended to create "inclusive and safe spaces for students."
Both NDP and BC United MLAs called Rustad out on Saturday.
"This is a disgraceful comparison," Ravi Parmar, NDP MLA for Langford-Juan de Fuca, posted on X. "It's shameful to co-opt this day to spread fear and attack the rights of queer kids. Stop using this important day to spread hate."
Elenore Sturko, BC United MLA for Surrey South, said on X the day is meant for remembering injustices inflicted upon Indigenous people. "It's not about John Rustad, and it's definitely not about his politics."
Rustad, who is the MLA for Nechako Lakes and a former Minister of Aboriginal Relations and Reconciliation, was first elected in 2005 under the B.C. Liberal party banner, now called BC United. The party ousted Rustad in August 2022 after he denied the role carbon dioxide has in climate change.
Rustad served as an independent until February 2023, when he crossed the floor to join the B.C. Conservative Party. He was elected as party leader two months later. The Conservatives received official party status last month when Abbotsford South MLA Bruce Banman left BC United to join their ranks.
Editor's Note: This story was updated on Oct. 3 to include comments from Professor Tricia Logan.